Job Vacancy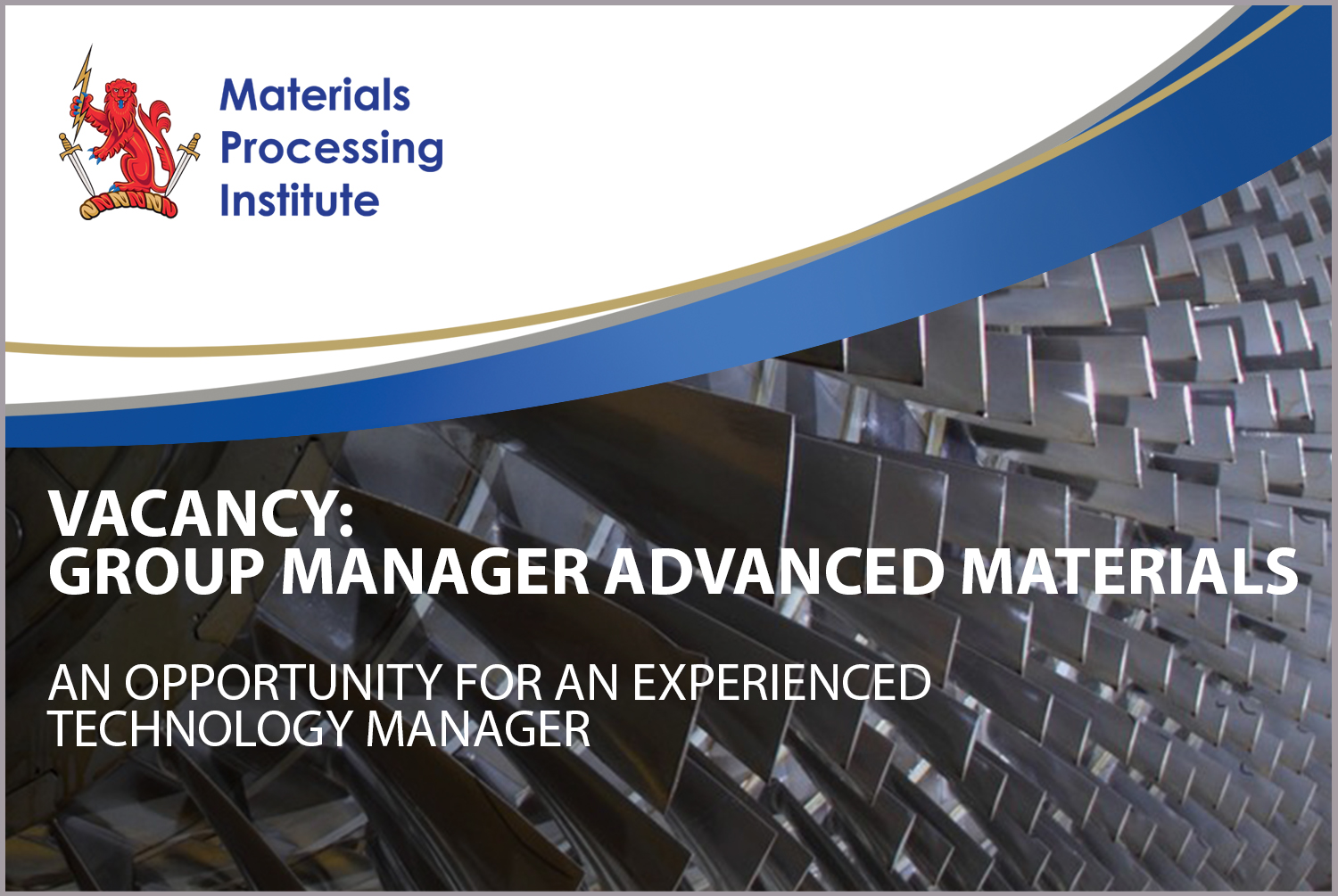 Group Manager, Advanced Materials
The vision of the Materials Processing Institute is to be the globally recognised centre for the innovation, development and commercialisation of technology for the challenges of advanced materials, low carbon energy and the circular economy. This is to be delivered by expertise in materials science and advanced processing, using the latest digital technologies of the 4th Industrial Revolution.
For the next stage in the realisation of this vision, the Institute seeks an experienced technology manager in advanced materials and materials engineering to drive forward the further development of the Institute's advanced materials strategy and the Advanced Materials Group that will deliver the strategy. The successful candidate will report to the Director, Operations.
The Institute will:
Develop the materials that are needed to meet society's technological ambitions, and prove the production route for them
Support the foundation industries to develop and produce new and improved products, and to maximise value from materials used by the foundation industries
Develop and prove advanced manufacturing technologies
The Advanced Materials Group will initially be a team of about ten people, but is expected to grow, developing expertise in advanced materials and materials engineering, delivering about £1.5M profitable business per year.
Key Accountabilities
As well as managing and developing the people in the group, the key accountabilities of this role are:
The development of the strategy in the field of advanced materials for proposal to the Director, Operations, and generating funding to implement it.
The definition, realisation and continuous improvement of the facilities needed to deliver the strategy.
The definition and development of the core skills needed to deliver the strategy.
The development of services and products in the field of advanced materials to address current and anticipated material needs in society and challenges in the foundation industries.
The development of a marketing plan for the Institute's expertise in the field of advanced materials, including generation of suitable marketing material and effective use of appropriate marketing channels.
The generation and delivery of sufficient business in the field of advanced materials to meet agreed financial targets for profitability.
Key Skills and Experience
Entrepreneurial acumen.
Extensive knowledge of advanced materials and materials engineering.
Knowledge of products, processes, challenges and opportunities in at least one foundation industry.
Experience of managing the generation and delivery of business in technology innovation.
Experience of income generation from grant funding and commercial clients.
Experience of developing and implementing technology strategy.
Demonstrated commitment to health and safety, and personal development in themselves and their teams.
---
Application Process
Applications should be in writing to Mr Keith Newlove enclosing a CV.
To discuss this role prior to an application, please contact:
Mr Keith Newlove on 01642 382068 email keith.newlove@mpiuk.com
or
Dr Gerard Stephens (Director, Operations) on 01642 382056 email gerard.stephens@mpiuk.com
A full job description is available from Keith Newlove on request.
Vacancies posted by the Institute are potentially suitable for flexible working, part time working or job share.
Materials Processing Institute
Eston Road
Middlesbrough
TS6 6US
United Kingdom