Refractories Testing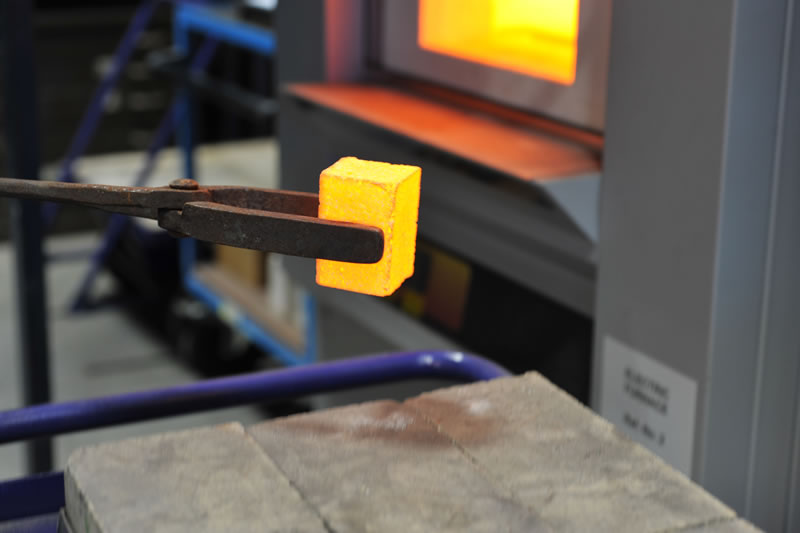 The Refractories Testing Laboratory measures the key properties of consumable refractories, such as those used in the metals processing industries. Also assessed are long life refractories, such as those installed in heating furnaces, typically found in metals processing, glass, cement, oil and energy from waste industries.
Typical activities are quality control testing for incoming materials, failure and incident investigation and testing newly developed materials. Consultancy and advice can be given for product selection, development, failure investigation and audits.
Test pieces can be prepared from pre-shaped samples using masonry saws, core drills and surface grinding.
Test pieces can also be prepared by casting or ramming unshaped monolithic refractories.
Key equipment:
Tema mill, used to grind samples to a powder for chemical analysis
Grading sieves, vibrating tables, mixers, rifflers for sample preparation
2 drying ovens
4 electric furnaces, capable of holding samples up to 1600⁰C
Cold Compression (crushing) strength
Cold abrasion resistance tester
Pycnometers
Evacuation equipment
Tests include:
Apparent Porosity
Bulk Density
True Density
Cold Crushing Strength
Permanent Linear Change after firing / coking
Cold Abrasion Resistance
Grading Analysis
Thermal Shock Resistance
Slag Resistance and Alkali Resistance