Top Blown Rotary Converter
Equipment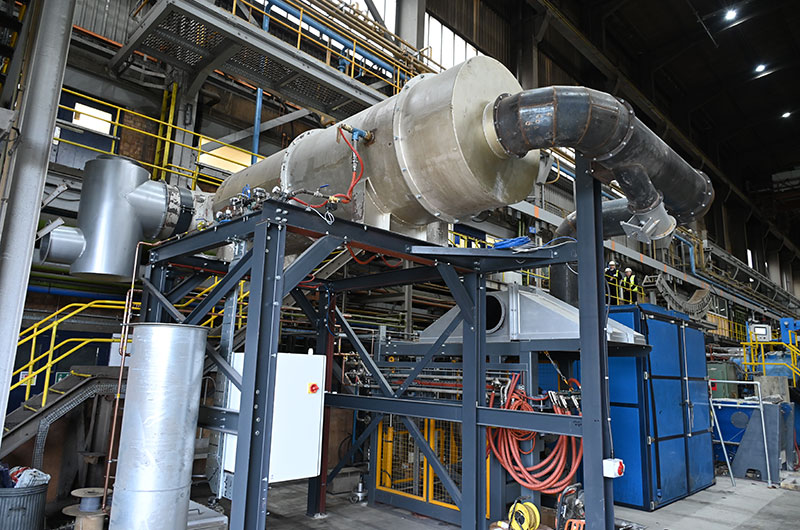 The Top Blown Rotary Converter (TBRC) is a pyrometallurgical furnace that can be used for the recovery, upgrade and refining metals; this includes:
Multi-purpose melting
Recovery of metals such as iron, copper and zinc from slags and process wastes
Recovery of precious metals from waste electrical and electronic equipment (WEEE)
It is the only one of its size in the UK.
Applications and Capability
Enables scale up from laboratory testing to pilot scale to help establish mineral recovery rates and process dynamics
Can be used to develop and evaluate pyrometallurgical recovery options
Advanced smelting equipment which can be used for treating anode slime or lithium recovery and the oxidation or reduction of metals.
Key Features
30 litre nominal capacity (120 litre total volume but held at an angle of 25°)
Operating temperature up to 1600°C
Rotation speed from 1 to 15rpm
Tilting angles: 0° for loading, 65° for firing,130° for tapping
Batch loading during process via vibratory feed system
Door mounted water-cool oxy-fuel burner rated at 120kW
Off-gas handling. Thermal oxidiser will treat any volatile organic compounds (VOCs), dioxins and furans
Bag filter plant for dust recovery
Options
The Top Blown Rotary Converter is part of a suite of pyrometallurgical pilot facilities from kilogram to tonnage scale at the Institute and is fully supported by laboratory scale analytical, characterisation and process modelling facilities.
Contact the Materials Processing Institute
Enquire about services, facilities, and expertise.