Normanton Plant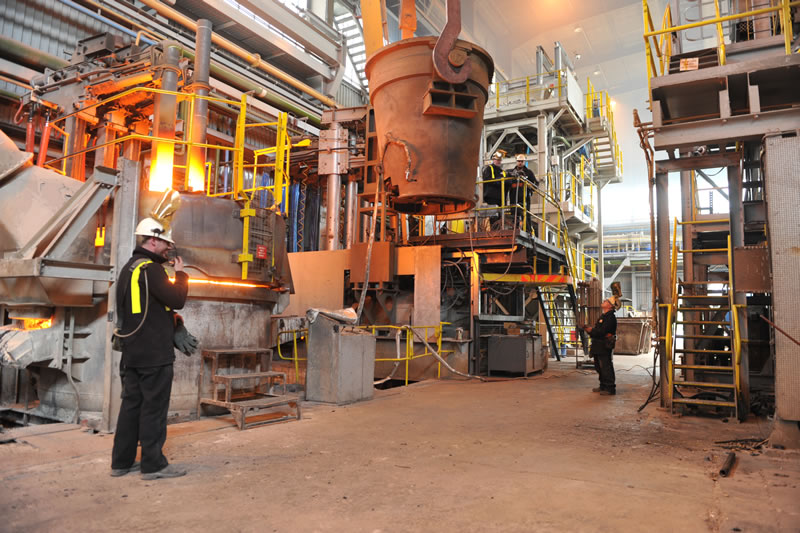 The Normanton Plant is a facility capable of melting and casting various metals and alloys, primarily steel alloys. The primary function is the production of quality steel for research and development projects as well commercial quality ingots and continuous cast billets and slabs. Assay melting of clients scrap and revert melting of highly alloyed metals using electric arc and induction melting furnaces is also carried out.
Facilities and Equipment
7 tonne Electric Arc Furnace - Primary melting of metal scrap.
Ladle Arc Furnace - Secondary Steel making where fine adjustments to steel chemistry is done.
Vacuum Degasser - Combines with LAF to allow clean low hydrogen steels to be made.
Ingot Casting - Primarily 5 tonnes and 5.9 tonne ingots, other smaller sizes are available.
Casting Pit - An area where the ladle teems the liquid steel into the ingot moulds. This a contained area, which can also be used for sand casting or research and development work.
Continuous Steel Caster -  A full scale single strand billet casting machine capable of casting the following sections and lengths :

Section size 300mm by 142mm with a cast length of 15m
Section size 180mm by 180mm with a total cast length of 24m
Section size 140mm by 140mm with a total cast length of 36m

Sand Casting - Small scale sand mixer used to produce sand moulds for the production of round ingots up to 250kg in weight.
Induction melting furnaces - Three furnaces capable of melting charge weights of 50kg, 80kg, and 250kg. The melted product is then cast into small ingots weighing up to 120kg.
Vacuum Induction Melting (VIM) - Consists of a 100kg Induction furnace contained within a steel housing allowing the melting of bespoke metal grades under vacuum conditions which are then then cast into ingots.
Revert Melting
Using an electric arc furnace and sand casting facilities unusable scrap materials are converted into a product that can be recycled back at source.
High alloy revert melting involves the clients supplying the material in a form suitable to charge to the Electric Arc Furnace. This is melted and cast into sand moulds. Each casting box can produce eight 250kg round ingots. Samples of the molten metal are taken and supplied to the client. The cast ingot weights vary between 220kg to 250kg and are 340mm diameter.
Assay Melting
Assay melting involves the client supplying the material (usually steel scrap) in a form suitable for charging to the Electric Arc Furnace. This is melted and then poured directly in to casting boxes. In addition to the cast metal weight, slag generated from the process is weighed and the fume dust collected by the EAF extraction system also weighed. This allows the delivered weight of material to be compared with the produced weights. Steel, slag and fume analysis are done to provide a comprehensive Assay service to the customer.
Research and Development
The Normanton Plant and its equipment is used extensively for Research and Development projects.
Product development of new and existing grades of steel on a small scale using the induction furnaces or on a commercial scale as ingots or continuous cast billets.
Development of continuous casting powders prior to commercial production.
Refining and development of primary and secondary steelmaking procedures.
Development of sensors and probes used to monitor the steelmaking process.