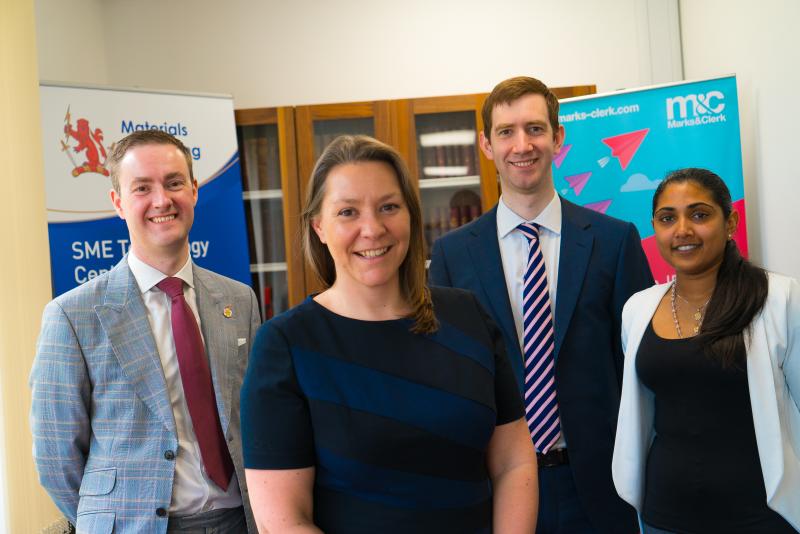 ---
PRESS RELEASE: ISSUED 9 MAY 2018
Redcar MP Anna Turley has welcomed a partnership between leading intellectual property (IP) firm, Marks & Clerk, and the Materials Processing Institute that will boost SMEs and start-ups in the North East.
Ms Turley officially opened the Institute's IP unit, which provides expert IP advice and support to SMEs and start-ups engaging in R&D in the region.
Businesses from the region, including those associated with the Institute, the Innovate Tees Valley and Tees Valley Business Start Up Programmes, as well as the Federation of Small Businesses (FSB) will be invited to sign up to the IP drop-in service, delivered by Marks & Clerk.
Marks & Clerk patent and trade mark attorney, Giles Pinnington, will be based at the Materials Processing Institute Middlesbrough campus for one day a month, helping companies and start-ups assess how they can bring their business ideas to fruition.
IP advice can vary from guidance on what type of IP protection is needed, such as patent application, brand protection or design registration, to helping with filing an application.
Giles' experience covers a range of technologies in the fields of chemistry, chemical engineering and mechanical engineering, including: production and processing of bulk chemicals, foodstuffs, packaging, medical devices, pharmaceuticals and engines.
The Materials Processing Institute is a research and innovation centre serving organisations that work in advanced materials, low carbon energy and the circular economy. It is recognised as a leading centre for the global steel industry, delivering research and innovation projects, consultancy and training. It also works with partner organisations to support businesses in the Tees Valley and wider region to grow.
The Institute is part of the Innovate Tees Valley Programme, which provides the platform to help build innovation capacity across all sectors and guides businesses as to how to break into new markets and sectors with their new products and services. It is also involved in the Business Compass Start-up Programme, which aims to help people in the region who are looking to set up their own business and need advice and support.
The partnership between the Materials Processing Institute and Marks & Clerk is welcome news for businesses in the North East and will complement other initiatives that have been designed to foster innovation and business growth.
Anna Turley, Member of Parliament for Redcar, said: "It is great to see this new partnership based at the Materials Processing Institute, which will support innovative and trail blazing companies on Teesside and in our region. Research and Development is so crucial to bringing new industries and new jobs to this area and this is exactly the kind of service companies need to help turn those ideas into reality. I congratulate the team at the Institute and Marks & Clarks for bringing this about."
Chris McDonald, CEO of the Materials Processing Institute, said: "This partnership with Marks & Clerk further strengthens our capabilities and the delivery of services available through our SME Technology Centre. We are looking to build on existing and develop new relationships with innovative firms in the Tees Valley and the wider North East region, and Giles' expertise will grant access to a specialist service that can help firms grow.
"I would like to thank Anna for attending and officially marking the launch of this service that has the potential to further strengthen innovative companies operating across the North East."
Giles Pinnington, Marks & Clerk Associate, commented: "We are excited to partner with the Materials Processing Institute so we can help to enhance the level of professional services support available to businesses in the North East of England. Our aim is to support innovation and commercialisation by giving businesses access to specialist intellectual property insight and knowledge.
"Much of my experience, as well as my current practice, covers advanced materials, chemistry and precision manufacturing; industries in which the region has strong expertise and heritage in. Having grown up in an area with a similar industrial heritage to the North East, I very much enjoy being involved in assisting SMEs achieve their growth goals and being able to witness the benefits of such success go back into the region.
"Being able to identify, protect and leverage your intellectual property can make a significant difference to your business. Whether you're looking to secure investment, export to new markets, or grow your existing operations, being able to protect your inventions, your brand identity and know-how will strengthen your approach to achieving your commercial goals."