Industrial Decarbonisation Group Manager joins panel for Decarbonisation and Net-Zero Target 2050 for Steel Industry Webinar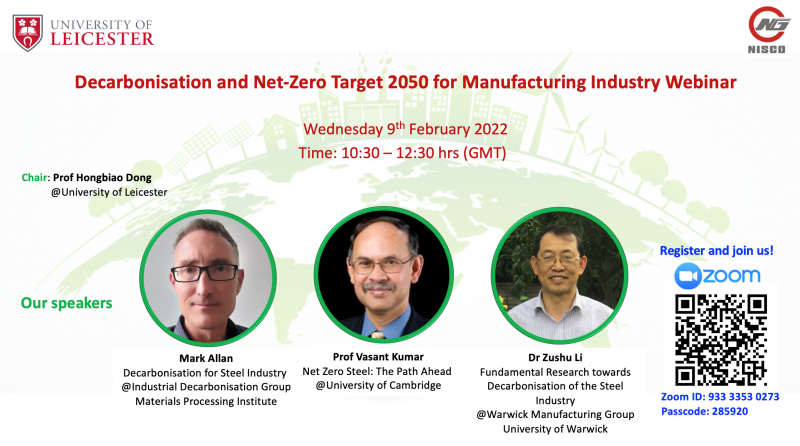 ---
Mark Allan, Manager of the Industrial Decarbonisation Group at the Materials Processing Institute, will be joining Professor Vasant Kumar from the University of Cambridge and Dr Zushi Li from the University of Warwick at this webinar organised by the NISCO Centre of the University of Leicester.
The webinar aims to provide a channel to discuss the recent developments of net-zero carbon steel and hydrogen technology for a green steel industry.
Following on from COP26, NISCO Centre of the University of Leicester will host a series of webinar on "Decarbonisation and Net-Zero Target 2050 for manufacturing industry". This is the first webinar and is on Decarbonisation and Net-Zero Target 2050 for Steel Industry.
Hydrogen technology and digital-enabled decarbonisation will revolutionise steel industry to be environmentally friendly with reduction in carbon emission to meet the net-zero target in 2050 in the UK and 2060 in China.
The webinar will be held online via "Zoom" on 9 February 2022 at 10:30am -12:30pm GMT.

Click here to register - https://zoom.us/webinar/register/WN_xuFdI0sETZ69K1Pl-yDuzg

The decarbonisation of the steel industry has been driven in recent years by climate change targets and legislation on carbon (C) tax such as the C trading credits scheme in the European Union (EU) and other continents. The global steel industry accounts for more than 10% of CO2 emissions and is key in the climate change targets of net zero by 2050, and recently announced ambitious reduction targets by 2030 in the UK, providing increased focus on implementation of digital technologies, in the next decade.
Since 2004, Europe has been the global leader on CO2 reduction in the steel industry, with the launch of ULCOS (ultra-low CO2 steelmaking) programme with a collaboration between over 40 different partners across Europe, resulting in 2 main project outcomes of HIsarna and blast furnace (BF) Top Gas recycling. Likewise, other countries in Asia also launched net-zero carbon initiatives(Nippon Steel in Japan or PISCO in South Korean).
7 February 2022