'We can take back control of energy by boosting gas' - Chris McDonald opinion piece for The Journal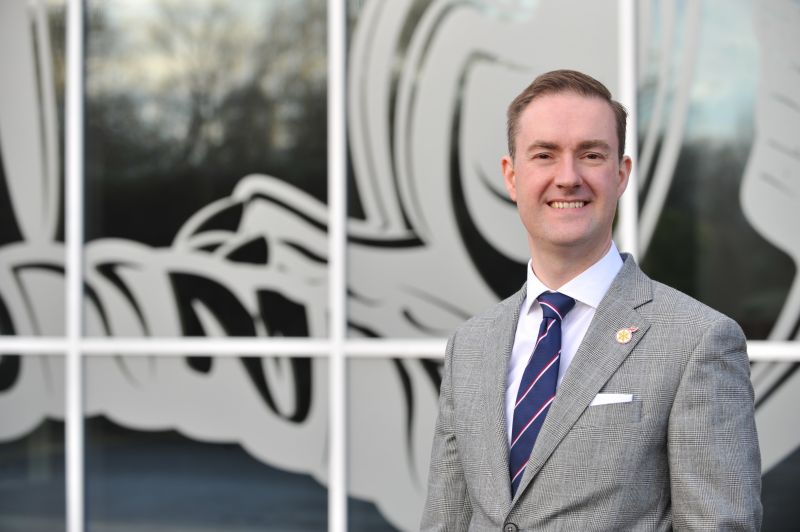 ---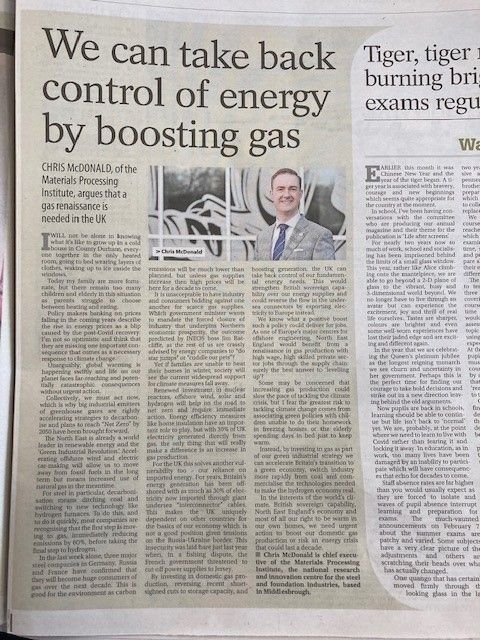 ---
'We can take back control of energy by boosting gas' - Chris McDonald opinion piece for The Journal
I will not be alone knowing what it's like to grow up in a cold house in County Durham, everyone together in the only heated room, going to bed wearing layers of clothes, waking up to ice inside the windows. Today my family are more fortunate, but there remain too many children and elderly in this situation as parents struggle to choose between heating and eating.
Policy makers banking on prices falling in the coming years describe the rise in energy prices as a blip caused by the post-COVID recovery. I'm not so optimistic and think that they are missing one important consequence that comes as a necessary response to climate change.
Unarguably, global warming is happening swiftly and life on our planet faces far-reaching and potentially catastrophic consequences without urgent action.
Collectively, we must act now, which is why big industrial emitters of greenhouse gases are rightly accelerating strategies to decarbonise and plans to reach "Net Zero" by 2050 have been brought forward.
The North East is already a world leader in renewable energy and the 'Green Industrial Revolution'. Accelerating offshore wind and electric car-making will allow us to move away from fossil fuels in the long term but means increased use of natural gas in the meantime.
For steel in particular, decarbonisation means ditching coal and switching to new technology like hydrogen furnaces. To do this, and to do it quickly, most companies are recognising that the first step is moving to gas, immediately reducing emissions by 60%, before taking the final step to hydrogen.
In the last week alone, three major steel companies in Germany, Russia and France have confirmed that they will become huge consumers of gas over the next decade. This is good for the environment as carbon emissions will be much lower than planned, but unless gas supplies increase then high prices will be here for a decade to come.
It is unacceptable to have industry and consumers bidding against one another for scarce gas supplies. Which government minister wants to mandate the forced closure of industry that underpins Northern economic prosperity, the outcome predicted by INEOS boss Jim Ratcliffe, as the rest of us are crassly advised by energy companies to "do star jumps" or "cuddle our pets"? Yet if families are unable to heat their homes in Winter, society will see the current widespread support for climate measures fall away.
Renewed investment in nuclear reactors, offshore wind, solar and hydrogen will help on the road to net zero and require immediate action. Energy efficiency measures like home insulation have an important role to play, but with 30% of UK electricity generated directly from gas, the only thing that will really make a difference is an increase in gas production.
For the UK this solves another vulnerability too - our reliance on imported energy. For years, Britain's energy generation has been offshored with as much as 30% of electricity now imported through giant undersea "interconnector" cables. This makes the UK uniquely dependent on other countries for the basics of our economy which is not a good position given tensions on the Russia-Ukraine border. This insecurity was laid bare just last year when, in a fishing dispute, the French government threatened to cut off power supplies to Jersey.
By investing in domestic gas production, reversing recent short-sighted cuts to storage capacity, and boosting generation, the UK can take back control of our fundamental energy needs. This would strengthen British sovereign capability over our energy supplies and could reverse the flow in the undersea connectors by exporting electricity to Europe instead.
We know what a positive boost such a policy could deliver for jobs. As one of Europe's major centres for offshore engineering, North East England would benefit from a renaissance in gas production with high wage, high skilled private sector jobs through the supply chain: surely the best answer to 'levelling up'?
Some may be concerned that increasing gas production could slow the pace of tackling the climate crisis, but I fear the greatest risk to tackling climate change comes from associating green policies with children unable to do their homework in freezing houses or the elderly spending days in bed just to keep warm.
Instead, by investing in gas as part of our green industrial strategy we can accelerate Britain's transition to a green economy, switch industry more rapidly from coal and commercialise the technologies needed to make the hydrogen economy real.
In the interests of the world's climate, British sovereign capability, North East England's economy and most of all our right to be warm in our own homes, we need urgent action to boost our domestic gas production or risk an energy crisis that could last a decade.
ENDS
17 February 2022