Sustainable steelmaking goes on display at Armourers' Hall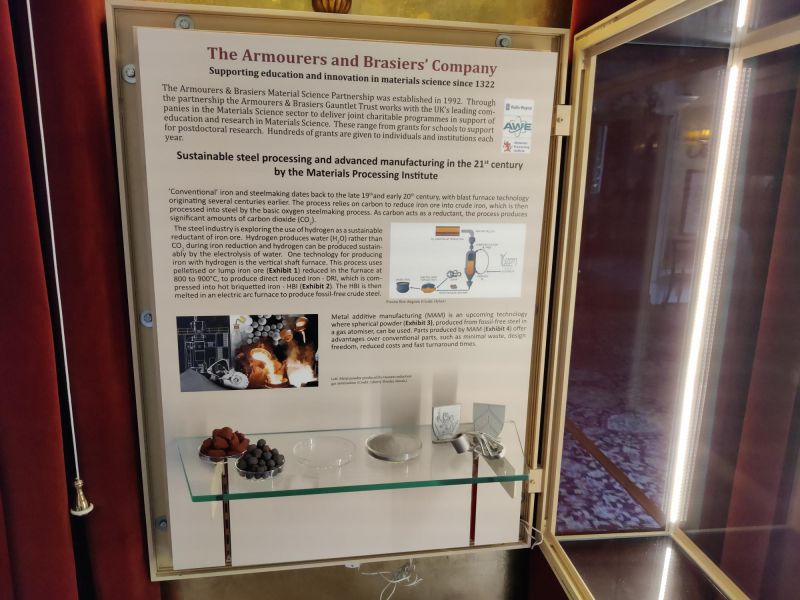 ---
The Materials Processing Institute along with Rolls Royce and AWE works in partnership with the Armourers' and Brasiers Company in promoting Materials Science as an exciting and rewarding career for young people.
Every year one of the partners develop a themed display for the cabinet in the Gold Drawing Room at Armourers Hall, and the Institute has recently finished the latest display which focusses on sustainability within modern steel processing and production. This is an area that the Institute works directly as part of the PRISM programme, funded by Innovate UK to provide research and innovation for the UK steel and metals sector.
The display features raw materials and product from hydrogen ironmaking. As with historic steel processing, the raw material is iron ore; however, rather than being reduced by carbon, the ore can be reduced in a shaft furnace by hydrogen in a process that produces a fraction of CO2. A sample of iron ore used in this process as well as hot briquetted iron (HBI) produced by this process form part of the display.
The next stage of the processing route displayed is powder atomisation, where steel produced from HBI is turned into metal powder for use in Additive Manufacturing (AM). The display cabinet features a sample of stainless steel metal powder with associated scanning electron microscope (SEM) micrographs.
Finally, a part produced with stainless steel powder using additive manufacturing, which exemplifies the advantages of the technique, including freedom of design and material reduction, is displayed along with a plaque with the Institute and Armourers and Brasiers logo.
This display will remain in place for viewing by anyone who visits Armourers' Hall over the next year.
For more information or to discuss funding for steel or metals projects, please contact the Materials Processing Institute at enquiries@mpiuk.com.
4 May 2022