CONFERENCE PRESENTATION - Turning battery recycling concepts into commercial reality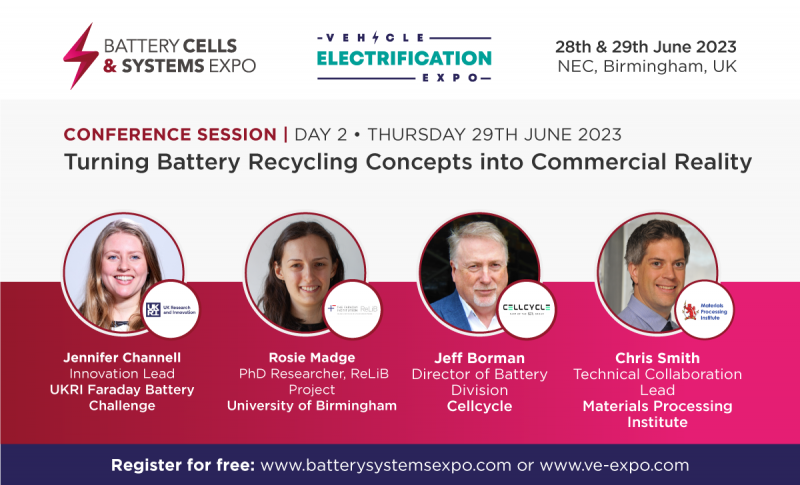 ---

---
Chris Smith, Technical Collaboration Lead at the Materials Processing Institute will join a panel of industry experts at the Battery Cells & Systems Expo looking at turning battery recycling concepts into commercial reality.
The conference takes place on
28th & 29th June 2023
Hall 3, NEC, Birmingham, UK
This conference session will consider turning battery recycling concepts into commercial reality and address the possibilities for overcoming these challenges including innovative technologies and processes to increase efficiency and reduce costs, while also improving the environmental impact of recycling.
Chris Smith will speak about the challenges around difficulties in accessing raw materials to meet the predicted demand for Lithium-ion batteries (LIBs) which means that recycling end of life LIBs is critical to meet the electrification demands of automotive, let alone wider industries. He will consider the strategic importance of recovering the lithium and graphite considering the valuable resources consumed in their production and would otherwise be only used once. He will explain how the Materials Processing Institute is supporting industry in the development, testing and scaling up of technologies and providing access to specialist equipment. These include:
A 100-litre hydrometallurgy reaction vessel enabling clients to scale up their laboratory processes, allowing investigations into concentrations, contamination, and other process variables. This support has also been expanded into materials characterisation, life cycle assessment and digital technologies. Clients can scale up their processes with outputs characterised; with quick turn arounds between trials, and other outputs including the foundations steps towards their machine learning approach and also understanding their environmental impacts.
Another facility at the Institute which Chris will talk about is the 30-litre top blown rotary converter enabling pyrometallurgical recovery of the Lithium-ion batteries materials once the graphite has been removed; with outputs including lithium, cobalt, nickel, manganese, aluminium and copper. This facility is also supported with materials characterisation, and life cycle assessment capabilities. Clients can progress this work on this scale equipment to speed up their time to market and also to reduce their costs through the scale up process.
Other industry experts joining this panel are:
Moderator:
Jennifer Channell, Innovation Lead - Batteries, UKRI Faraday Battery Challenge
Speakers:
• Jeff Borman, Director of Battery Division, Cellcycle
• Rosie Madge, PhD Researcher, ReLiB Project University of Birmingham
• Christian Marston, CTO, Allium Metals
This panel session takes place at 11.00am on Thursday 29th June.
You can register here: https://tinyurl.com/ybp3367m
The Battery Cells & Systems Expo will bring together automotive manufacturers, electric utilities, battery system integrators, cell manufacturers and the entire manufacturing supply chain.
The twin tracks in the Battery Cells & Systems Expo and Vehicle Electrification Expo conference combine to deliver a programme of sessions focused on a battery and EV supply chains, infrastructure, manufacturing, safety, cost, sustainability, skills and performance developments. The programme will tackle the challenges the industry is facing in turning a successful period of R&D into viable, sustainable and cost-effective battery and EV solutions at scale.
One Event for Four Connected Industries
Battery Cells & Systems Expo, Vehicle Electrification Expo, The Advanced Materials Show and The Advanced Ceramics Show bring together four connected industries for two days of networking, lead generation and education at the NEC, Birmingham. A four-track, free conference featuring global experts covers the latest innovations and developments across these four exciting industries.
14 June 2023