COVID-19 Risk Assessment and Business Continuity
Updated 16 December 2021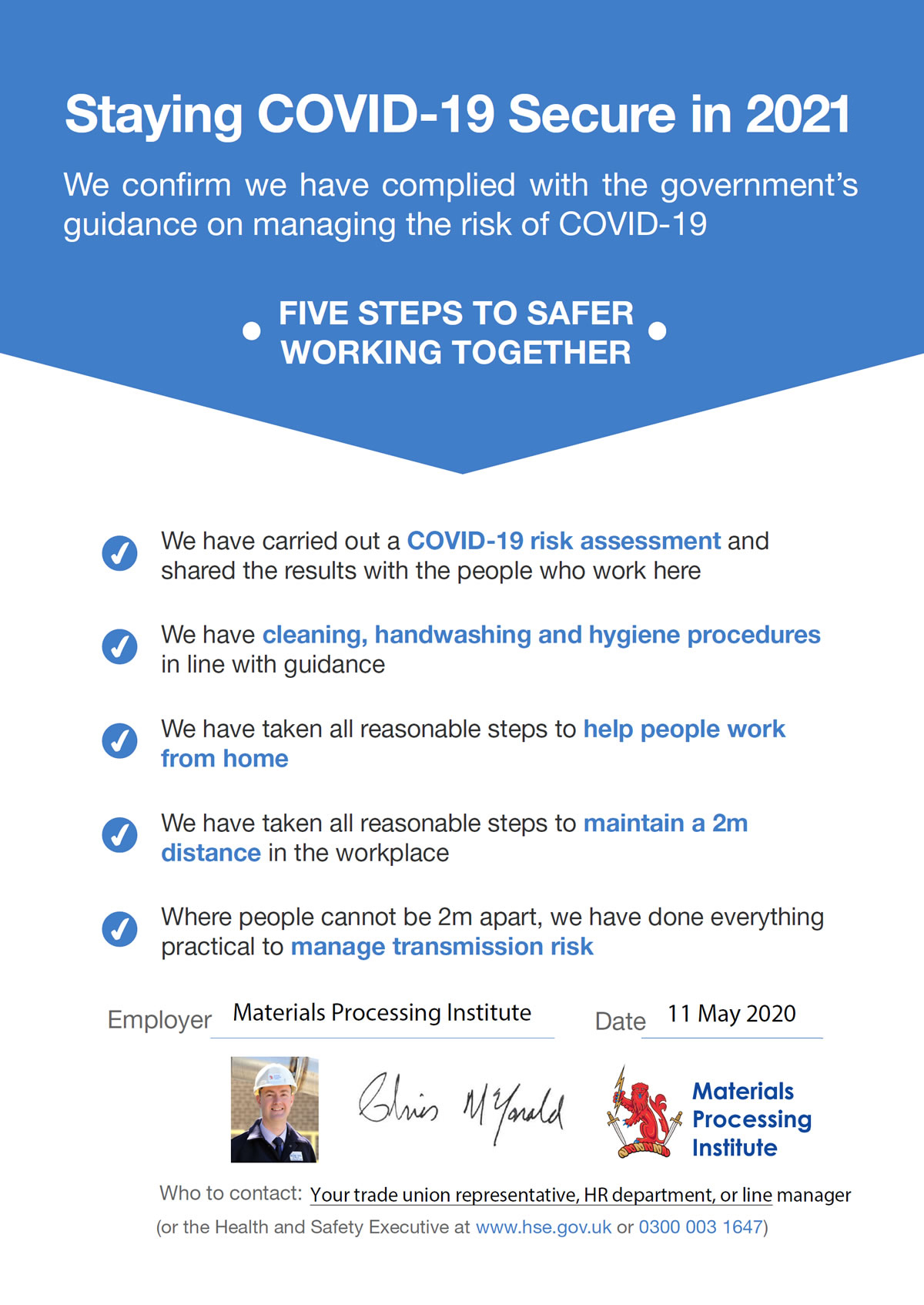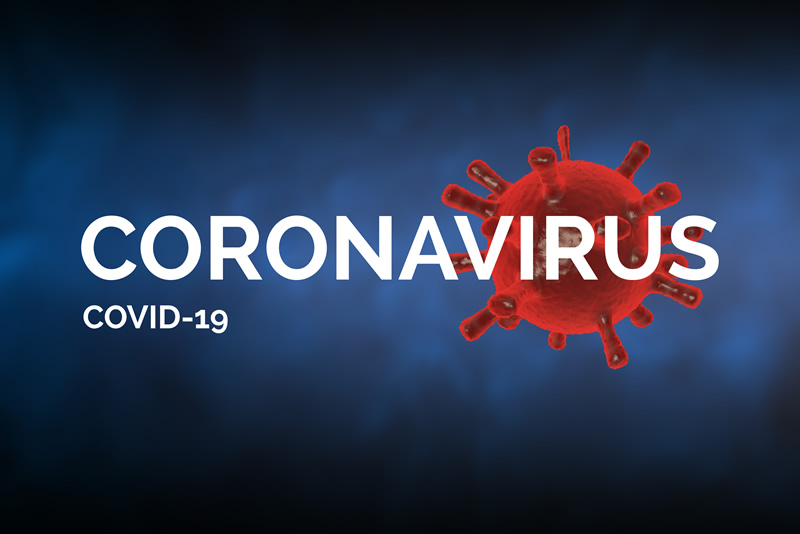 The Materials Processing Institute recognises that our employees and their families, as well as our clients, suppliers and partners will be worried about the impact of COVID-19. This page outlines the risk assessment and key activities we are undertaking to minimise disruption to our normal commercial activities and to protect and support our employees and the wider community.
This Risk Assessment is continually reviewed and will be updated in response to the changing nature of the risk and in line with the latest Government advice.
The Materials Processing Institute's COVID-19 response began in February 2020, based on observation of activity in other countries, particularly the Far East. Throughout the crisis, the Institute has remained focussed on our objectives to:
Keep all staff, visitors and their families safe and well.
Continue the operation of the Institute, in so far as is possible.
Avoid any detrimental impact on the income of colleagues.
Immediate action was taken to protect colleagues and their families and to support home working.
As is usual in the Institute, all of these actions have been taken in full consultation with the staff, trade union and directly elected staff director on the Institute board. There is a COVID-19 planning group, which is chaired by the CEO and includes personnel from key functions, including the trade unions and directly elected staff director. The minutes of this group are detailed and are shared with colleagues and external stakeholders. Where best practice is identified this is shared with the SME tenants at the Institute campus.
Actions have also been taken to support the national effort. We set up a hand sanitiser manufacturing facility in one of our laboratories, which at the height of the pandemic supplied sanitiser free of charge to all of the Marie Curie nurses between York and Scotland. We also registered for the government scheme to manufacture ventilator components. All of our colleagues have been asked to be aware of people in our own community who may be self-isolating for protection and be prepared to offer help and support.
In recent weeks the Institute COVID-19 planning group has been focussing on increasing protecitons in light of the Omicron variant. This document will be updated from time to time in line with best practice information available. The ALARP (as low as reasonably practicable) principal of risk management has been adopted with respect to COVID-19, consistent with how risks are managed elsewhere in the business.
Key Messages
The most important immediate ongoing measures to be taken by all people are:
Work from home – You must work from home if you can work from home.
All meetings must be virtual, unless there is an exceptional reason.
Ventilate spaces as much as possible, or meet outdoors.
Wear a face mask in communal areas.
Cover your mouth and nose with a tissue or your sleeve (not your hands) when you cough or sneeze. See Catch it, Bin it, Kill it. Put used tissues in the bin straight away.
Wash your hands with soap and water often, or use hand sanitiser gel (see hand washing guidance). Do not touch your eyes, nose or mouth if your hands are not clean.
Try to avoid close contact with people who are unwell.
Further information and government advice can be found here.
Risks and Control Measures
Risk

Control Measure

Protection of Vulnerable Staff

People who are clinically extremely vulnerable have been identified and will work from home. This applies to anyone living with, or caring for people who are clinically extremely vulnerable people.

People who are over 60, or vulnerable are to work from home where possible, even if vaccinated. Where staff aged over 60, or who are vulnerable are unable to work from home, additional social distancing measures to be put in place, where required. These measures also to apply to any staff living with, or caring for, someone who is over 60, or in the vulnerable group.

Colleagues who move into the over 60, vulnerable group, or clinically extremely vulnerable groups (including those who live with, or care for people in these groups), to inform their manager as soon as possible.

All colleagues working from home are covered by the Institute corporate insurances in the same way as if they were at work.

Supporting Colleagues

All colleagues to work from home where this is possible.

Sick pay to be extended, such that all staff and all agency contractors receive full pay from day one (details as per email of 19th March 2020). This also applies to colleagues who are self-isolating and are unable to work from home.

All colleagues to be supported in flexible working in relation to childcare (particularly whilst schools are closed) and caring for vulnerable people. This could include support such as shopping for food and medicines.

Reducing Transmission

Increased cleaning protocols have been implemented, particularly around tea areas, handrails and touch points, including during the day. It is still important that colleagues use the handrail when proceeding up and down stairs.

Face masks are to be worn in all communal areas of the Institute.

In introducing this rule we do not want to place our cleaning staff at any greater risk when emptying bins and so our preference is very strongly for people to use a reusable face mask, which can be taken home and laundered.

If you do use a disposable face mask then please do not place this in the bins at work, but take it home and dispose of it there.
If for whatever reason it is essential that you do dispose of a face mask at work, then please use the clinical waste bin in the medical room.
If you forget your face mask, then we do have a stock of disposable face masks that will be made available for staff and visitors in reception.

These guidelines apply to the use of additional face masks for the purposes of preventing COVID-19 as described above. They do not alter in any way the current arrangements for use and disposal of face masks for dust protection and job-related PPE, such as activities in the Normanton Plant, laboratories and when visiting client sites.

All colleagues may obtain at least two reusable, Institute heraldic face masks.

In line with government guidelines anyone with a medical condition that prevents the wearing of a face mask is exempt from this rule. Please be aware that if someone is not wearing a face mask, they would likely welcome you reminding them if they have forgotten, but that not all disabilities are visible, and it is important to be sensitive to the fact that someone may be unable to wear a mask.

Visitors to the Institute to be minimised, in so far as is practicable for the continuation of commercial activities. The number of people a visitor meets to be limited as far as practicable.

Recruitment to be virtual where possible, with exceptions for skills testing, operation of equipment, etc.

Adapting Workspaces

Meetings to take place via Teams, even when colleagues are present at the Institute.

Adapting Normanton Plant Operations

Changes made to existing procedures, to support social distancing during melts.

Provision of PPE, including face masks, is being trialled. Specification of masks to be in line with WHO guidelines and where possible not competing with supplies for the NHS.

Staggering of breaks.

Staff paired together in sub teams.

Normanton Plant team have undertaking training in new COVID secure working practices.

Business Travel

The current procedure is that all travel requests will be authorised only within a two-week rolling window. No travel will be authorised where alternative arrangements could be made. This applies to local, national and international travel. Any travel that has been booked by an individual without a prior authorisation form will not be reimbursed.

Where a client requires a negative test before entering their site, Colleagues can obtain lateral flow test kits from the NHS.

If a colleague tests positive then they must isolate according to government regulations, but they may return any pool, or hire car to the Institute site first, where it will be quarantined for 72 hours before cleaning.

Single person occupancy of cars is preferred where possible. Colleagues may request to use their own car for company business, subject to having appropriate business insurance.

Control of Incidents

Where an employee, or visitor to the Institute becomes a confirmed case of COVID-19, the management of the Institute will follow the guidance of the Health Protection Team, with regard to risk assessment, cleaning communal areas and colleagues who may have worked in close proximity.

Anyone who develops a persistent cough, or fever, or loss of taste, or smell, or other COVID-19 symptom, or if anyone in their household develops these symptoms, they should go home and arrange for a COVID-19 test as per government guidelines. Such colleagues may use this time to work from home, if they are well enough to do so and if this is possible in their role. If this is not possible then normal sickness arrangements apply.

If a colleague becomes ill whilst at work and symptoms are minor, they should:

Inform their manager, preferably by using their own 'phone.
Go home and enter self-isolation as outlined above.

Their manager should determine which areas will require disinfectant and cleaning.

If a colleague becomes ill whilst at work and the symptoms are more serious, they should

Move immediately to the medical room.
Call 111, preferably by using their own 'phone.
Inform their manager and reception, preferably by using their own 'phone
If they need to use the toilet, they should use the toilet adjacent to the medical room.
Reception to ensure that the toilet adjacent to the medical room is not used by any other colleagues, or visitors during this period.
All tissues to be disposed of in the clinical waste bin in the medical room.

IT Security & Working from Home

Provision of IT equipment for staff to support home working, including training and risk assessment in home office ergonomics.

Roll out of multi factor authentication and further measures to increase IT security for home working are ongoing.

Acceleration of transition to cloud-based services to facilitate remote data access.

Contractor and Engineering Management

Access to site changes to be included in contractor briefings and contractors to be working to the Institute risk assessment as a minimum, plus any additional measures dependent on the specific task.

Contractors are also expected to report to the Institute and incident of one of their employees who has attended the campus, subsequently falling ill with COVID-19 symptoms, or testing positive for COVID-19, within the 14-day period.
We are working hard to adapt our businesses as a result of the Covid 19 pandemic. We recognise that this crisis presents tremendous challenges for everyone and we as a business are committed to help and support one another to come through this difficult period.
The Institute shares the concerns and worries of our clients, suppliers and partners and our priority is protecting the health of our families, colleagues and anyone else we engage with throughout the duration of the Covid-19 pandemic.
We have put plans in place to remain fully operational and continue to provide all practicable services and support. All measures aim to slow the spread of the virus, minimise disruption to our business and maintain the delivery of projects for our clients and partners. These actions will support business continuity and ensure our business is resilient to unforeseen events and external factors, as well as appropriately protected against risk.
This is an unprecedented situation which will require us to continually review and evaluate how we operate as a business. We will endeavour to share information and advice for everyone's benefit, and we are committed to remain transparent and to look after all our colleagues and their families and continue to work with and support our clients, partners and suppliers.
We will continue to make every effort to fulfil our commitments to our employees, clients, partners and other stakeholders.
If you have any concerns or questions, please get in touch, as by working together we can support each other as effectively as possible during these challenging times.
Members of the public, businesses, employers and employees are being asked to follow Government, NHS and Public Health England guidelines which can be found at gov.uk/coronavirus
Stay safe and take care of each other.