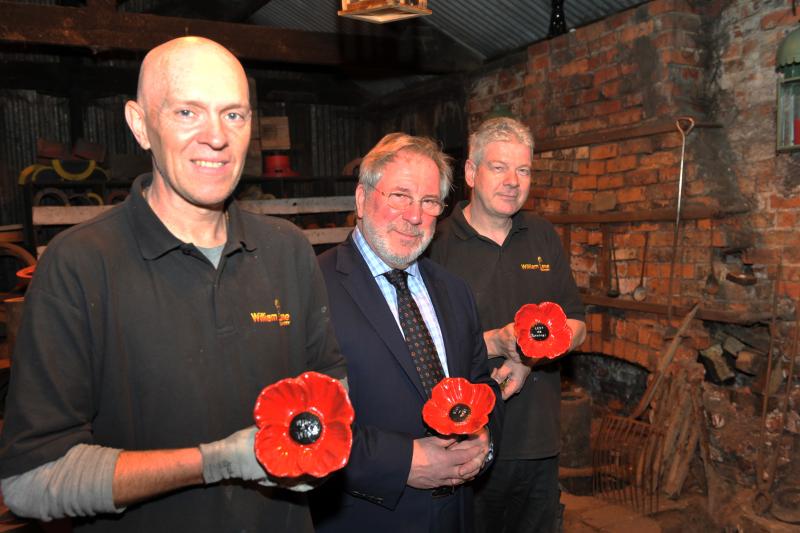 ---
William Lane Foundry is being supported by Tees Valley-based research and innovation centre, the Materials Processing Institute, to produce commemorative tributes ahead of Remembrance Day.
William Lane, on Forty Foot Road, Middlesbrough, is creating hand decorated metal poppies for the British Legion for this year's Remembrance Day, with 10% of all sales going towards the cause.
Stuart Duffy, one of the Directors at William Lane, was put in touch with the British Legion's Middlesbrough branch by Paul Taylor, SME Programme Manager at the Materials Processing Institute, who, along with Innovate Tees Valley, have supported the initiative and helped to progress Stuart's initial idea.
Stuart's passion for creating the poppies stems from his family history as his injured grandfather was taken as a prisoner of war (POW) during the Battle of the Somme. This family history formed the inspiration for his idea, as while he was in his allotment he noticed a plastic poppy in his neighbour's plot and used this as the model for his metal poppy.
The poppies, which are available to buy at the foundry, are decorated by Stuart and the team at William Lane to include the name of a remembered person or relative.
One of the last foundries in Middlesbrough, William Lane Foundry provides engineering and metalwork restoration services to a range of industries including railway and automotive. Established in 1862, it is now under the ownership of Directors Stuart Duffy, Dave Stuart and Cheryl Holley, who formed a management buyout when the company was set to be sold in 2016.
The Materials Processing Institute has supported William Lane through the Business Compass Start-up Programme when the three Directors took over the company and later, as it became an established business, through Innovate Tees Valley, providing access to additional business advice and contacts.
Stuart Duffy said: "Working with the Materials Processing Institute and the Innovate Tees Valley programme gave us the confidence to progress our ideas into a new product. The poppy idea was close to my heart and the help and encouragement we received from the Institute and Paul Taylor has been important in bringing the idea into reality.
"It is very humbling to be collaborating with the British Legion and is one of my proudest moments in business and personally."
Sue Oddy, Community Fundraiser, North Yorkshire and South Teesside, at the British Legion, said: "It's fantastic that the William Lane Foundry is supporting the Poppy Appeal in such a generous way. We really do welcome the opportunity to partner with local and national business communities to help us raise money to continue with our work.
"The Poppy is a symbol of Remembrance and hope, and it is that hope that the British Legion offers to members of the Armed Forces community who may be living on through hardships, injury and bereavement.
"The Poppy itself honours the unique contribution of the armed forces community, past and present.