Integrating Industry 4.0 to Steel Plants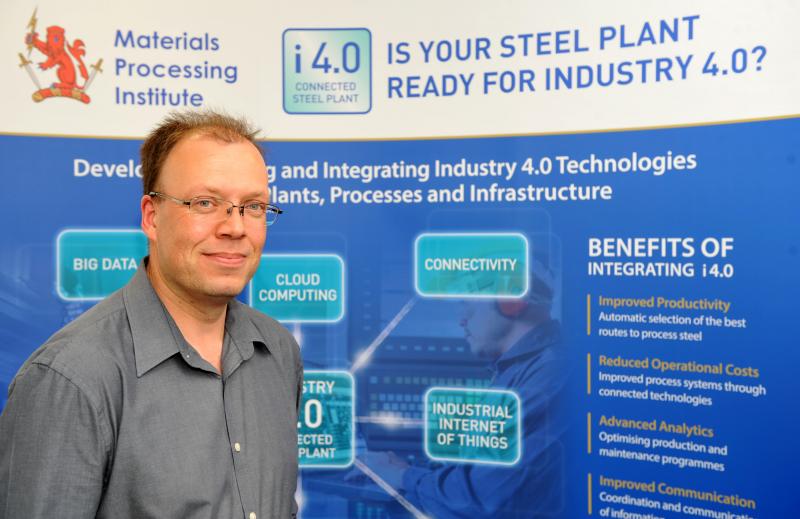 ---
Chris Oswin from the Materials Processing Institute is a keynote speaker at the Future Steel Forum which takes place on 6-7 June 2018 at the Sheraton Warsaw Hotel, Poland.
The Future Steel Forum will draw upon the expertise of steel industry professionals, production technologists and academics to provide steelmakers with a greater understanding of 'smart manufacturing' and applying Industry 4.0. to steel plants.
The Materials Processing Institute has a pilot production facility capable of producing plain carbon and alloy steel types by continuous casting and ingot casting. The plant is used primarily for development of new steel alloys, but also supplies highly specialist steels. This facility is being reconfigured as a 'Future Steel' plant, providing a test bed for industry 4.0 technologies to be developed.
The Institute has developed and successfully applied a four-stage model for full application of Industry 4.0 technologies. The four stages are: measurement, monitoring, expert system and closed loop control. At the conference, Chris Oswin will discuss the approach being taken at the Institute for development and integration of Industry 4.0, with emphasis on the routes through the pilot and demonstration scale, for safe and reliable integration into steel plants.
Richard Curry, Director, Operations will be on the discussion Panel: Engineering Education and Qualifying the Industry 4.0 Workforce and the Institute will also be exhibiting.
If you are attending, please call by our stand.
Registration is open at: https://www.eventdata.co.uk/Forms/Default.aspx?FormRef=FSF68Visitor
If you are not able to attend, but would like to discuss integrating Industry 4.0 technologies, please email the Institute direct at: enquiries@mpiuk.com
29 May 2018