Director at Materials Processing Institute achieves industry honour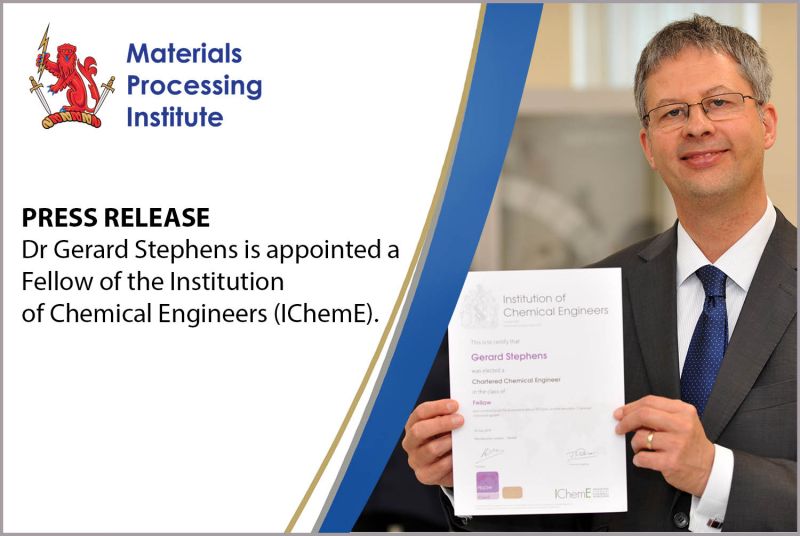 ---
Dr Gerard Stephens, Director of Operations at the Materials Processing Institute, has been appointed a Fellow of the Institution of Chemical Engineers (IChemE).
The highest level of membership open to Chartered Chemical Engineers, it is granted to those who have made a significant contribution to the chemical, biochemical and process engineering industries.
Dr Stephens has extensive experience in the steel industry, a sector in which he has worked for 23 years, and was instrumental in establishing the Institute's SME Technology Centre, supporting SMEs mainly operating in the local process and manufacturing supply chains.
The Institute supports organisations working in advanced materials, low carbon energy and the circular economy and is recognised as a leading research and innovation centre for the global steel industry, with expertise in the development and upscaling of materials and industrial processes.
As Director of Operations, Dr Stephens is accountable for the resourcing, delivery, quality and the environmental impact of research activity, as well as health and safety. He leads five research group managers together with a further 35 graduate or postgraduate engineers and scientists.
He previously led two regional development projects to promote innovation and entrepreneurship within the Tees Valley and is closely involved in the Institute's newly launched Digital Technologies Group, which helps organisations meet the challenges of the digital revolution.
A Chartered Engineer, he sits on the Institute's Management Board, sharing collective responsibility for the development and implementation of strategy.
Dr Stephens said: "It is an honour to be accepted as a Fellow of IChemE and to follow in the footsteps of so many talented chemical engineers associated with this prestigious global organisation.
"My work here at the Institute, providing research and innovation services and helping to shape future local and national industrial strategy, was pivotal in my becoming a Fellow."
Chris McDonald, CEO of the Materials Processing Institute, said: "I'd like to congratulate Gerard on achieving this esteemed position. It is not only testament to his leadership, talent and expertise, but is recognition of his outstanding contribution to his profession.
"It also reflects well upon the exceptional abilities and industry knowledge of our staff here at the Institute. It is this depth of learning and proficiency which keeps this research centre at the forefront of innovation."
2 September 2019