University of Leeds PhD students given an insight into industry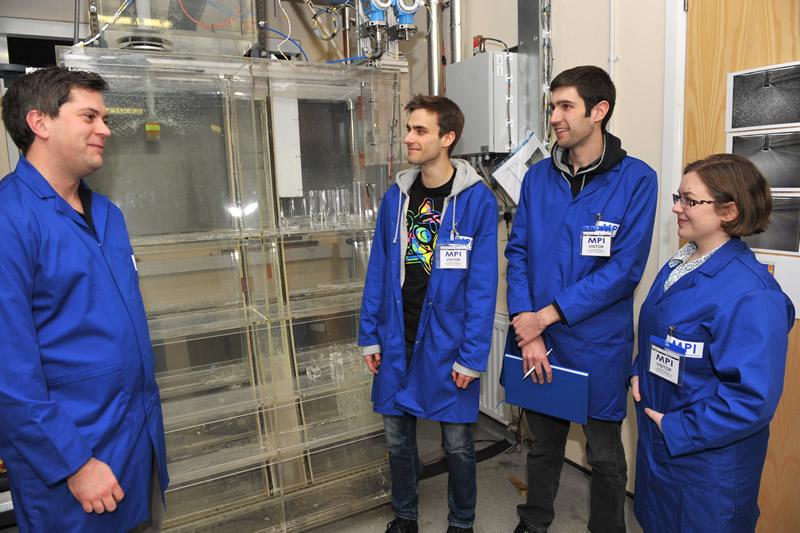 ---
Graduates from the University of Leeds have been given an insight into industry while carrying out research at the Materials Processing Institute.
Students from the University of Leeds' EPSRC Doctoral Training Centre in Fluid Mechanics have spent three days on Teesside working at the Institute, with further visits planned between now and July as their project progresses.
Led by Professor Onno Bokhove students Paul Allen, Caroline Shields and Fryderyk Wilczynski, spent time in the physical modelling laboratory to carry out work which ties in with their computational and mathematical flow modelling tasks done on the university campus.
The idea behind the visit was to enable the students to have an opportunity to learn about modelling techniques while also finding out more about research and development and identifying industrial problems.
Professor Bokhove said: "The students are halfway through their first year of a four-year Integrated Masters and PhD, and the visit to the Materials Processing Institute is a key part of that programme.
We are interested in projects which involve fluid dynamics, looking at steel when it is cast and flowed into the mould. To be able to carry out the work in the Institute gives the students first-hand experience of the tools of the trade.
We have a good relationship with the Materials Processing Institute, and this visit gives the students the opportunity to use the top-class facilities before taking their knowledge back to the university.
What they are learning on site at the Institute is not something they could learn from watching a DVD in the classroom.
Our first visit was in June 2013, and while this particular project is a one-off, we look forward to strengthening the relationship in the future via other projects."
The Materials Processing Institute is an open access technology centre that undertakes R&D work for companies looking to streamline their processes and save on long-term costs.
The Institute works across a range of sectors including energy, chemicals and process, recycling and waste, construction, engineering, automotive, offshore, oil and gas and nuclear.
Alan Scholes, Chief Technology Officer for the Institute, said: "One of our aims is to encourage development of the next generation of innovative engineers and scientists for the process industry and we have good contacts with many of the UK's major universities.
We are keen to encourage Doctoral Training, but in a way that helps produce 'industry-ready' graduates who have a grasp of the business world from working with us on real industrial problems.
We are currently converting part of our site to provide a base to be used by such students working with us in the future.
We gain by better contact with a leading University with very strong skills in computational techniques for fluid flows and we can increase our own expertise as a result."
The project is funded by the Engineering and Physical Sciences Research Council (EPSRC), which distributes £800m each year to research and post-graduate training.
10 February 2016