REGENERATIS team visits Teesworks site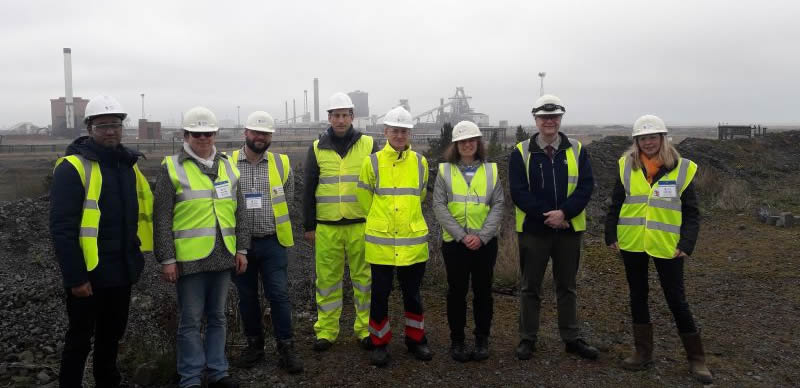 ---

---
The Materials Processing Institute is a partner in the European REGENERATIS Project team looking at recovering materials and metals on former steel sites, and therefore helping to reduce rehabilitation cost. Members of the project team have recently visited Teesworks to inspect the former Tata Steel landfill located there which is estimated to be more than 95% steel slag. (With operation ceasing in July 2002).
The Materials Processing Institute has been working with the South Tees Development Corporation (STDC) since the REGENERATIS project started in 2019. STDC is an Associated Partner of the project and is facilitating access to the Teesworks site, which is an official pilot site of the project, along with similar sites of former metallurgical activity in France and Belgium.
The REGENERATIS Project Partners includes Belgium, French, German and British companies, research institutions and universities with expertise in the fields of geophysical surveying, mineral and metal characterisation, mineral and metal processing, data processing and artificial intelligence tool development.
The objective of REGENERATIS is the design and implementation of a new economic model that is easy for public and private companies to put into practice and allows for the reintegration of raw materials and land back into the economy. The project is due to be completed in 2023 with reporting, publication of final results and roll-out to other sites of potential interest across Europe in 2024.
The visit was led the Circular Economy Group of the Materials Processing Institute, with project partners, SPAQUE, ATRASOL, BRGM and Cranfield University also attending. This was part of a two-day project Steering Committee meeting hosted by the Institute, which was also attended remotely by other members, CTP, IXSANE, DUFERCO, JUNIA, TEAM2, and the Universities of Liege, Cologne and Bavaria.
Tours also took place of the Advanced Materials Group laboratories and the Normanton steel plant at the Institute.
Link to REGENERATIS Project information - https://www.mpiuk.com/research-project-nwe-regeneratis.htm
5 April 2022