NWE-REGENERATIS project
Regeneration of past metallurgical sites and deposits through innovative circularity for raw materials.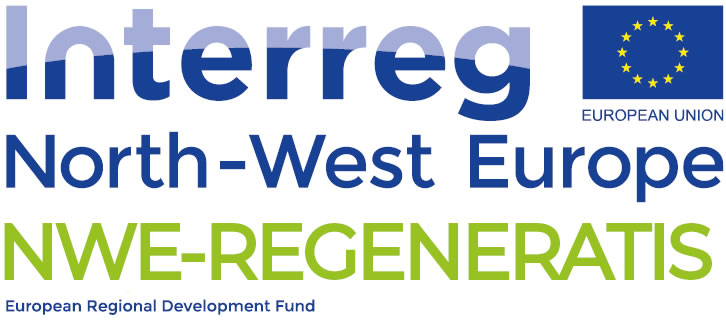 Project Summary
Developed as part of the European Interreg North-West Europe programme, working with public and private Belgian, German, French and British partners, NWE – REGENERATIS involves recovering materials and metals on former steel sites, thus helping to reduce rehabilitation costs. Its ultimate goal is the design and implementation of a new economic model that is easy for public and private companies to put into practice and allows for the reintegration of raw materials and land into the regional economy.
NWE-REGENERATIS focuses on solutions for the remediation of contaminated Past Metallurgical Sites and Deposits (PMSD) in Northwest Europe.
The main groups targeted by the project are:
Organisations responsible for decontaminating sites contaminated by metallic industrial wastes.
Organisations in charge of their redevelopment.
DATES - September 2019 – March 2023
SPONSOR - Interreg North West Europe, European Regional Development Fund
FUNDED - €4.23 million
BUDGET - €7.06 million
Objectives
Increase the reuse of raw materials from past metallurgical sites and deposits
Evaluate the feasibility and economic potential for raw material recovery and site remediation using innovative Artificial Intelligence Tools
Provide knowledge and decision support tools to screen past metallurgical sites and deposits
Recover valuable materials
Create jobs
The NWE – REGENERATIS project involves:
The development of a common, resource-based inventory framework for former metallurgical stores, based on existing inventories in the countries of North-West Europe.
The innovative pairing of historical and geophysical methods of analysis and investigation of metallurgical sites to collect missing data, in order to optimise soil analysis costs and reduce the time required for the studies.
The development of an open-source 4D SMART tool (SMARTIX) based on an artificial intelligence algorithm.
A phase to demonstrate the material recovery processes through pilot tests and large-scale work on various sites, including a site located in Teesside.
The results will be tested at three pilot sites located in Teesside in the United Kingdom, Pompey in France and La Louvière in Belgium.
Partners