Industry experts strengthen Materials Processing Institute board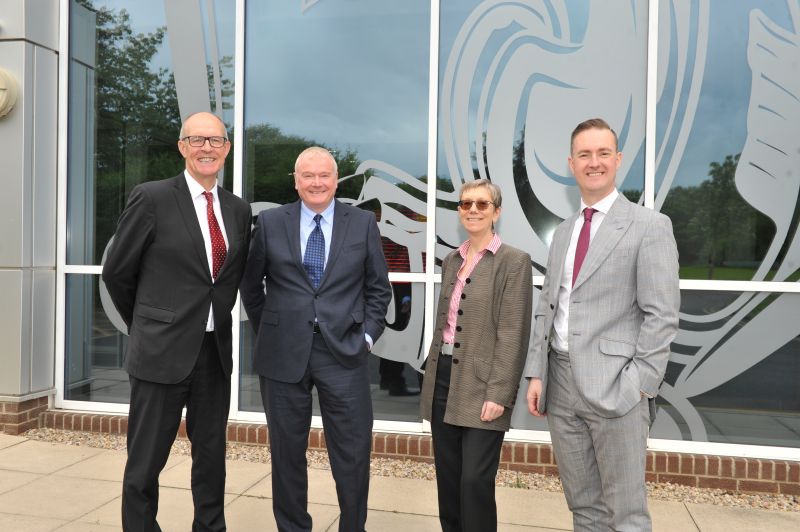 ---
PRESS RELEASE ISSUED 13/06/2022
The Materials Processing Institute has appointed two industry experts as non-executive directors to further strengthen its position as a national centre for research and innovation.
Janice Munday CBE, an authority in innovation planning, and David Pummell, a business leader in technology development and commercialisation, have joined the board of the Middlesbrough-based Institute to support the implementation of its new commercial growth strategy.
Janice Munday previously served as Director of Advanced Manufacturing for the Department of Business, Innovation and Skills and was responsible for working with a range of companies across multiple sectors and with local areas to encourage growth and productivity.
Working in partnership with business, she participated in the creation and implementation of strategies on skills development, including the "See Inside Manufacturing" campaign, and championed the appointment of more female executives to senior positions in business.
She has been non-executive director of Inogesis, formerly VTC, for six years, working to bring disruptive technology into businesses, and a non-executive director of Sheffield Forgemasters since October 2016. She was previously Principal Fellow at the Warwick Manufacturing Group, helping teams working on research on technologies to support manufacturing growth.
David Pummell has extensive business leadership experience in renewable conversion technologies for the production of biofuels, and fuel cell technologies for the power and energy sectors. He spent 22 years working at BP, primarily as a commercial executive, after graduating as a chemical engineer, before becoming chief executive of four innovative technology companies where he drove forward the commercialisation of products and services into various markets around the world.
David has a wealth of experience of conducting business in Europe, the US, Middle East, China, and Asia Pacific, through his tenure at BP, ACAL Energy, Ceres Power, MAPS Technology and Velocys, where he gained extensive experience of working with the UK Government and US administration securing grant funding and with institutional, private equity and venture capital investors.
He has an in depth understanding of the structures and trends in energy markets and is experienced in restructuring assets, monetising technologies and the development and implementation of commercialisation strategies.
Chris McDonald, the Institute's Chief Executive, said "As the Institute continues to innovate, grow, and help develop new products, technologies, and services, it is important to have the support and guidance of seasoned industry professionals such as Janice and David on the board.
"Their outstanding commercial talents, sector knowledge and business acumen will help the Institute in its mission to support long-term economic prosperity in sectors including advanced materials, industrial decarbonisation, the circular economy, and digital technologies."
Institute Chair Jon Bolton added: "Over the past six months, we have been reshaping the board to support the Institute's continuing development and I'm delighted to welcome Janice and David, whose past experiences will help it to meet current challenges whilst growing its commercial capabilities."
David Pummell said: "As a global leader in commercial innovation and technological advancement in the foundation industries, the Institute has an incomparable reputation for ground-breaking research and development, and I'm delighted to be part of its leadership team to help drive forward its new commercial growth strategy."
Janice Munday said: "I look forward to supporting the Institute to help ensure its expertise is utilised to help industries to modernise and innovate in the transformation to a low carbon economy."
END
IN THE NEWS....
https://www.neechamber.co.uk/view/M_News_M000883_14_06_2022_14_52_26/

https://www.thenorthernecho.co.uk/news/20208580.expert-non-execs-added-mpi-team/

https://www.teesvalleybusinessclub.co.uk/industry-experts-strengthen-materials-processing-institute-board-n-3808.html

https://www.steelguru.com/steel/ms-munday-mr-pummell-join-materials-processing-institute

https://www.businessupnorth.co.uk/industry-experts-appointed-to-strengthen-materials-processing-institute-board/

13 June 2022