Chris Smith to talk about additive manufacturing at next week's UK Metals Expo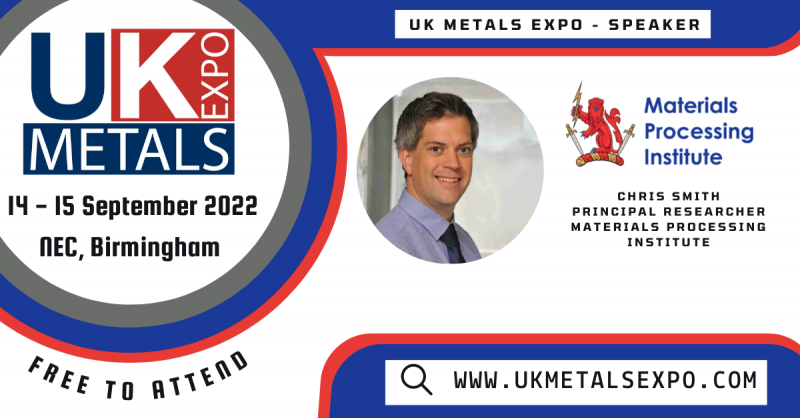 ---
Chris Smith, a Principal Researcher at the Materials Processing Institute, will be speaking at the UK Metals Expo taking place at the NEC, Birmingham on 14th and 15th September 2022.
Chris will be speaking about metal powder atomisation efficiency and impacts on additive manufacturing. His presentation will outline the performance improvements developed by the Innovate UK The Sustainable Innovation Fund: SBRI phase 2 DANDY 2 (Development of Atomiser Nozzle Design to increase Yield) 2 Project, led by Liberty Powder Metals Ltd and supported by the Materials Processing Institute and Capital Refractories, which aimed to increase the yield of the target size fraction for additive manufacture from 40% to 50-60%. From this presentation delegates will have a better understanding of the:
* Benefits of powder metallurgy and additive manufacturing.
* Application of a wide range of monitoring, measuring, and characterisation techniques to support robust project delivery.
* How to make efficient use of funding through effective collaboration.
ATTEND THIS PRESENTATION – Click the following link - https://ukmetalsexpo.com/session/case-study-metal-powder-atomisation-efficiency-and-impacts-on-additive-manufacturing/
FUNDING AVAILABLE FOR RESEARCH PROJECTS
Visit the Materials Processing Institute exhibition stand, (E20), to find out how to get funding to support innovation in the UK Steel and Metals sector; or apply for funding direct here - https://www.mpiuk.com/prism-enquiry.htm
UK Metals Expo 2022
The UK Metals Expo will be the first time that the entire metals industry is both represented and brought together fully under one roof. The entire metals supply chain will be represented from primary metal manufacture, supply chain management, processing metals, fabrication, surface coatings and recycling with industry experts, leading vendors and trade attendees.
Theatre themes include Supply Chains, Innovation, Skills, Circular Economy and Resources. UK Metals Expo benefits from full endorsement and collaboration from the UK Metals Council, its member trade associations and numerous other industry bodies.
Anyone with a career in the metals industry will want to attend, any organisations providing goods or services to this industry will want to be represented.
UK Metals Expo registration - https://ukmetalsexpo.com/
8 September 2022