New powders morphology and flowability index to be presented at international powder metallurgy congress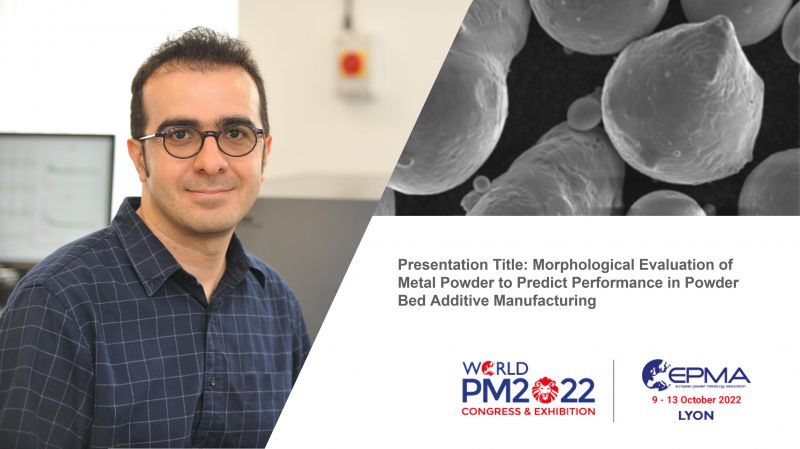 ---
Ehsan Rahimi, a Senior Researcher at the Materials Processing Institute, will be presenting at the World Powder Metallurgy Congress, World PM 2022, taking place in Lyon, France from 9th to 13th October.
The World PM2022 Congress & Exhibition is the foremost event for the international powder metallurgy community and includes over 300 technical papers discussing the latest trends and developments in powder metallurgy.
The title of the presentation is:
Morphological Evaluation of Metal Powder to Predict Performance in Powder Bed Additive Manufacturing
This presentation is co-authored by:

Ehsan Rahimi, Materials Processing Institute
Adam Hunt, Liberty Powder Metals Ltd,
Xinjiang Hao, Liberty Powder Metals Ltd
The physical properties of metal powder such as flowability, spreadability and packing density are critical to the performance of powder bed additive manufacturing (AM) processes.
The presentation will consider the research undertaken to propose a new index that can correlate the morphology of powders to their flowability performance in the laser powder bed fusion process.
The presentation will expand on how static image analysis was used to quantify classifications in terms of highly circular, circular, minor satellited, major satellited, elongated and agglomerated. These classifications of the powders were based on standard shape descriptors.
The outcome of this research will be presented which includes a proposed new weighted index to represent the combined influence of size and morphological classifications on the flowability and processability of powders for laser powder bed fusion (L-PBF).
Details of how to register and attend this presentation are available on the World PM 2022 website - https://www.worldpm2022.com/
5 October 2022