The Materials Processing Institute announces appointments to three key senior management roles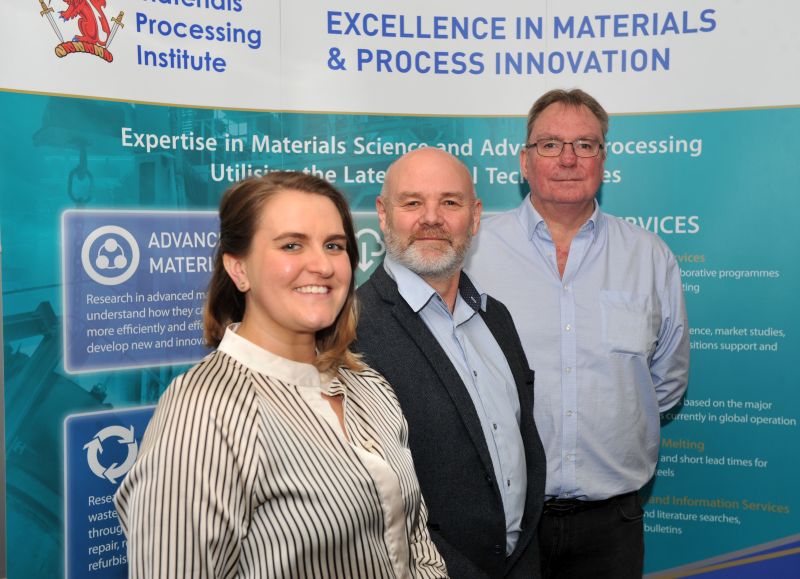 ---
Press Release 10/10/2022
The Materials Processing Institute has appointed Professor John Fernie to the newly created role of Chief Materials Scientist to support the delivery of multi-million pound decarbonisation projects, including the development of new materials and processes required for future technologies.
With more than 30 years' experience of managing research and development teams, Professor Fernie joined the Teesside-based Materials Processing Institute in March 2020 as Group Manager – Advanced Materials. Prior to joining the Institute, he worked for TWI (The Welding Institute) in Cambridge, the Atomic Weapons Establishment in Aldermaston, and has acted as a freelance technical consultant.
Dr Richard Birley takes up the role as Group Manager, Advanced Materials, whilst Dr Lucy Smith takes up the role of Group Manager, Circular Economy at the Institute.
Dr Richard Birley is an experienced and dynamic engineering and environmental manager, who rose to become a senior engineer within the RAF, working in a variety of challenging environments around the world. On leaving the military, he became a project manager for a research intelligence company, before becoming Fuel Efficiency Manager at First Group.
He also spent more than five years as a researcher at the University of Leeds examining methods of reducing emissions from the power production industry, before joining the Institute in 2021 as a Principal Researcher specialising in industrial decarbonisation.
As Group Manager, Advanced Materials, Richard will be responsible for delivering a number of large projects, both European and UK based. These include the Advanced Materials Characterisation Centre, and the Advanced Materials Development Centre.
Dr Lucy Smith joined the Institute in 2020 as a Principal Researcher, later becoming Technical Collaboration Lead before moving to the senior management position. As Group Manager, Circular Economy, she will lead the development of innovations maximising resource efficiency through manufacturing and process optimisation.
The Group also conducts research into extracting value from waste, identifying technologies and recovering materials that reduce resource consumption and waste generation. It currently works with a range of partners to develop, scale up, and commercialise technologies and processes that support the development of a circular economy.
She was a doctoral Fellow at the University of Sheffield, where her work focused on the sustainability of materials and products.
Chris McDonald, Chief Executive Officer for the Materials Processing Institute, said: "The fact that all three of these key senior management positions have been filled by internal candidates underlines the depth of the experience, talent, and knowledge that the Institute is able to draw upon.
"Given our position at the forefront of innovation, development, and commercialisation of technology in the fields of advanced materials, industrial decarbonisation, digital technologies, and the circular economy, I created a new role of Chief Materials Scientist to bring additional support and focus to the many globally important projects we are leading on."
Prof John Fernie said: "It's an extremely exciting time to be at the Institute, working on some of the greatest challenges of our times, including the decarbonisation of the foundation industries, clean energy, and reducing demand for the planet's finite resources."
Dr Lucy Smith added: "I'm passionate about sustainability, having already been involved in a number of key projects, including Cement 2 Zero, which seeks to develop the world's first zero emission cement, so I'm looking forward to leading Circular Economy Group which leads the way in developing innovations that maximise resource efficiency."
Dr Richard Birley said: "As Group Manager, Advanced Materials, I look forward to driving forward the Institute's strategy that will support greater recyclability, CO2 reduction and reinforce the UK's sovereignty over the raw materials necessary to create a modern low carbon industry."
ENDS
Photo caption: L-R: Dr Lucy Smith, Dr Richard Birley, and Professor John Fernie have been appointed to senior management roles at the Materials Processing Institute

In The News....
https://www.thenorthernecho.co.uk/news/23042970.three-key-roles-filled-materials-processing-institute/
https://www.businessnewsnortheast.co.uk/materials-processing-institute-announces-three-key-senior-appointments/
https://www.businessupnorth.co.uk/the-materials-processing-institute-announces-appointments-to-three-key-senior-management-roles/?_unique_id=634410ab354a7
https://www.teesvalleybusinessclub.co.uk/materials-processing-institute-announces-3-senior-appointments-n-3914.html
https://www.nepic.co.uk/blog/memberposts/materials-processing-institute-announces-appointments-to-three-key-senior-management-roles/
10 October 2022