Group Manager joins the debate on research and innovation for rare earth elements at Critical Minerals Conference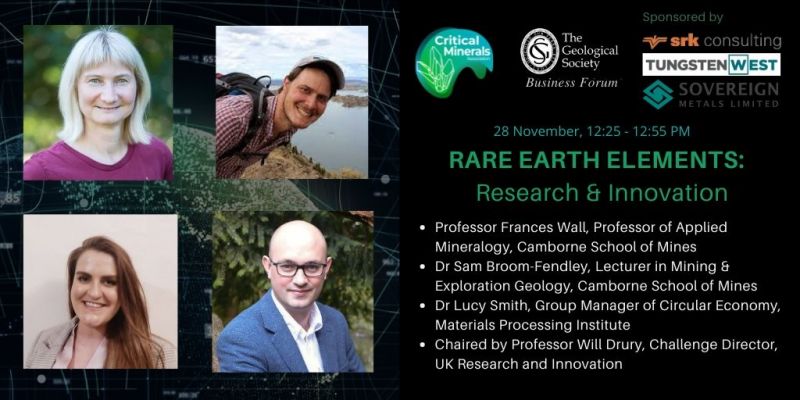 ---
Dr Lucy Smith will be joining the panel discussion at the 2nd Annual Critical Minerals Conference considering research and innovation for rare earth elements.
The panel will consider how the Government can support research and innovation, the research that is still needed around rare earth element deposits, how social science can be utilised to enhance research, and how collaborations can de-risk projects to get greater buy-in.
The panel for RARE EARTH ELEMENTS – Research and Innovation is:
Chair - Professor Will Drury, Challenge Director, UK Research and Innovation
Professor Frances Wall, Professor of Applied Mineralogy, Cambourne School of Mines
Dr Sam Broom-Fendley, Lecturer in Mining & Exploration Geology, Cambourne School of Mines
Dr Lucy Smith Group Manager – Circular Economy, Materials Processing Institute
Other sessions at the conference will cover Government Strategy, Base Metals, and Battery Materials.
Watch online - To find out more go to - https://www.eventbrite.co.uk/e/cma-gsbf-2nd-annual-critical-minerals-conference-tickets-405158037597
CMA & GSBF 2ND ANNUAL CRITICAL MINERALS CONFERENCE
Date and time
Mon, 28 November 2022, 08:30 – 21:00 GMT
Location
The Geological Society Piccadilly London W1J 0BG
24 November 2022