Local Foodbank supported by Materials Processing Institute Campus Businesses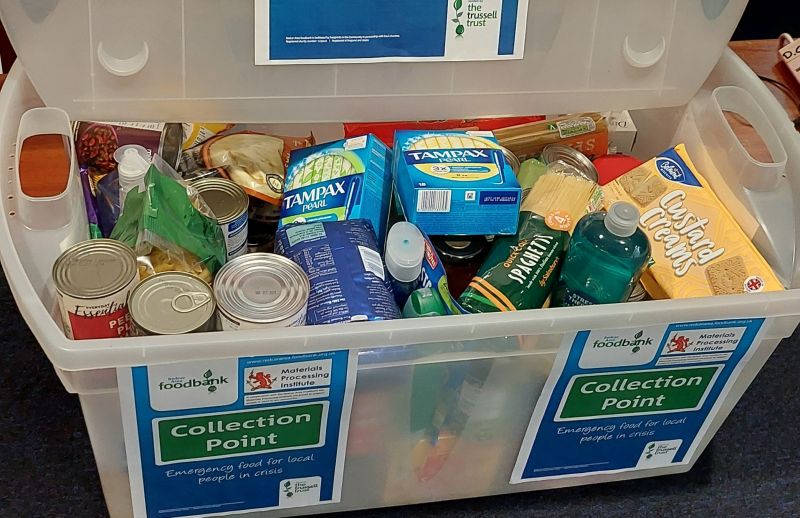 ---
It has been widely reported that Foodbanks throughout the UK have never been busier, and the cost-of-living crisis is adding to the great hardship many people and families are currently experiencing.
The Materials Processing Institute and the companies located on its campus are supporting a local Redcar based organisation, called "Footprints in the Community", https://footprintsinthecommunity.co.uk/redcar-area-foodbank/ , who run several foodbanks in the area, including one which serves Grangetown and South Bank where the Institute campus is.
In May 2022, the Independent Food Aid Network (IFAN), representing 550 independent foodbanks, found 93% of IFAN food banks surveyed reported an increase or significant increase in the need for their services since the start of 2022. Of the foodbanks reporting increases, 95% said it was due to the rise in the cost of living. Leading charity The Trussell Trust, which supports a network of 1,300 foodbank centres, including Footprints in the Community foodbanks, recently warned that "the soaring cost of living is driving a tsunami of need to food banks".
Foodbanks provide an essential service to help those most in need in our communities, but they too are struggling. Foodbank networks have reported increased demand and falling food donations. With inflation predicted to reach between 10 and 11%, charities are seeing a further "surge in demand" adding to these pressures.
Tony Kirk, a Principal Researcher at the Institute, got in touch with Footprints in the Community to see how we can help locally. They let him know that they welcome any help, particularly as they are very short of some critical food items at the moment including tinned soup, tinned spaghetti, tinned fruit, coffee, hot chocolate, sponge puddings, tinned rice pudding, tinned custard, "Smash" instant mashed potato or similar, sweet treats, savoury treats; as well as essential toiletries and household goods including toilet roll, soap, shampoo, deodorant and washing powder.
With the foodbanks support, a donations collection box is now in the Reception at the Institute which Institute staff and other campus businesses can use to make donations. Regular deliveries of essential supplies are now being sent to the Redcar Area Foodbank, part of Footprints in the Community.
Chris McDonald, Materials Processing Institute CEO commented: "With so many people affected by the cost-of-living crisis and energy price rises, increasing numbers of individuals and families in our community are now reliant on foodbanks. I would like to offer my thanks to the compassionate volunteers at our local foodbank and to offer our continued support."
About Redcar Area Foodbank
Redcar Area Foodbank is part of a nationwide network of foodbanks, providing emergency food and support to anyone facing food poverty due to a crisis. They are supported by The Trussell Trust and share their procedures and best practice. Trained volunteers currently run nine foodbank centres, all of them based in local churches across the area.
6 December 2022