Final Workshop - NWE-REGENERATIS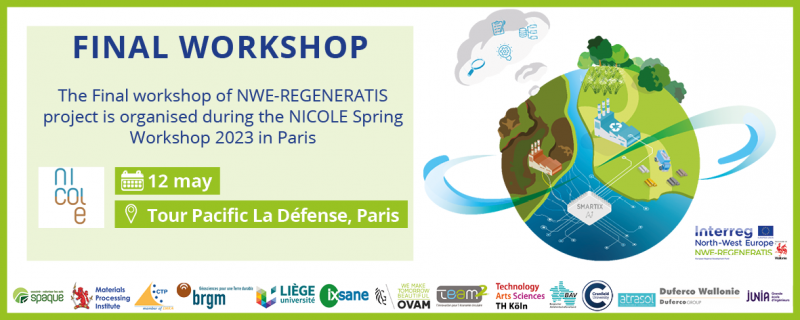 ---
The final NWE-REGENERATIS workshop will take place in Paris on May 12. This workshop is the culmination of a series of successful events that have been held as part of the NWE-REGENERATIS project.
The Materials Processing Institute has brought its pyrometallurgical knowledge and experience to support the project. This includes laboratory work to assess the potential for recovery of metallic content from waste materials from landfill.
The NWE-REGENERATIS project has been running for almost 4 years now, and it has brought together leading researchers, academics, and professionals from around North Western Europe to discuss the latest developments in the field of land and materials resource recovery.
NWE-REGENERATIS has focussed on the regeneration of Past Metallurgical Sites and Deposits through innovative circularity for raw materials.
While recent metallic waste streams are usually treated, older waste (aggregated material with high ferrous metal content, scrap, other metals, white and black slags and other streams) are considered as a source of pollution, expensive to manage or eliminate. NEW-REGENERATIS aims to transform this problem into an opportunity, as large volumes of resources (metals, materials & land) from Past Metallurgical Sites and Deposits can be recovered by urban-mining.
The final workshop will provide a platform for the project team to showcase their research findings and share their experiences.
Stuart Higson, a Senior Researcher at the Materials Processing Institute, will be sharing the work the Institute has been doing to support the NWE-REGENERATIS project.
To find out more and register – https://www.eventbrite.co.uk/e/registration-final-workshop-nwe-regeneratis-in-person-only-event-tickets-607469947967
NWE REGENERATIS - More Information - https://www.mpiuk.com/research-project-nwe-regeneratis.htm
9 May 2023