Materials Characterisation to support zero emissions cement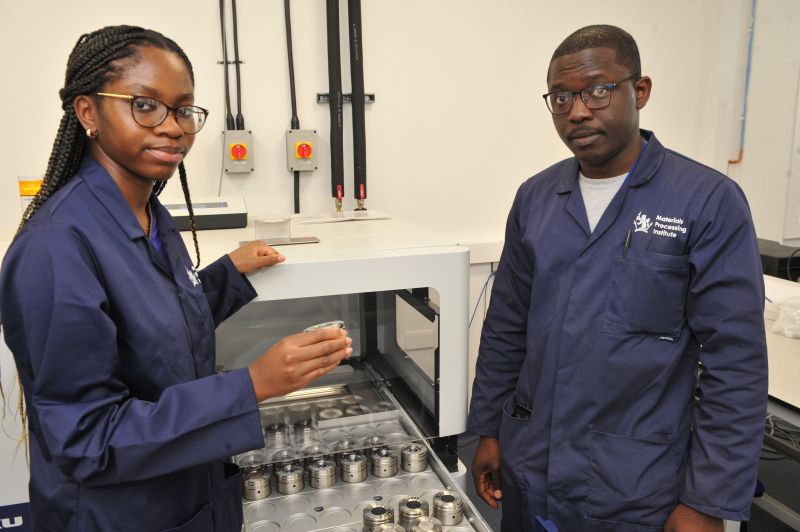 ---
The Cement 2 Zero project is looking at both the technical and commercial aspects of upscaling Cambridge Electric Cement (CEC) production to produce 20 tonnes of the world's first zero emissions cement. It will use end of life cement as an electric arc furnace flux to produce steel, whilst also capturing the slag for use in the cement industry.
The Materials Processing Institute has been applying advanced materials characterisation techniques as part of the extensive research and development work to better understand the CEC structure, composition and properties to support improvements in its design and composition.
This materials characterisation analysis has included the following techniques using state of the art equipment at the Institute:
X-ray fluorescence (XRF)
X-ray diffraction (XRD)
Simultaneous Thermal Analysis (STA)
Particle-size distribution (PSD)
This work has been led by Senior Researcher, Wisdom Asotah and supported by Susan Ojo, who is currently undertaking a Year in Industry placement with the Materials Processing Institute before going on to study MEng Chemical Engineering at Loughborough University.
Materials characterisation work for this project is continuing to further support product development and process improvement.
The Cement 2 Zero project is a collaboration between:
Materials Processing Institute
University of Cambridge
Atkins Ltd
Balfour Beatty Civil Engineering Limited
CELSA Manufacturing (UK) Limited
Day Group Limited
Tarmac Cement and Lime Limited
The Cement 2 Zero project has received funding from UKRI as part of the Transforming Foundation Industries Challenge.
Link to Materials Processing Institute Cement 2 Zero project page - https://www.mpiuk.com/research-project-cement-2-zero.htm
10 May 2023