Investment in Accelerated Ageing Chambers will speed up materials analysis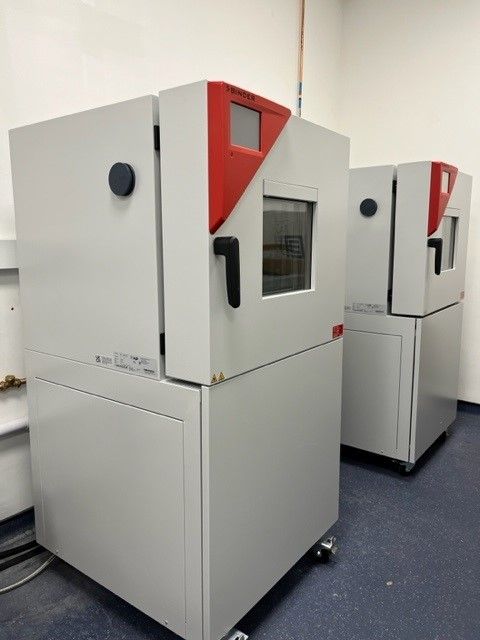 ---
The Materials Processing Institute has invested in three new Accelerated Ageing Chambers to support advanced materials analysis.
Accelerated ageing is a form of testing that involves speeding up the normal ageing process by exposing any products or materials to extreme versions of real-life conditions to predict how that item or material will naturally age. Accelerated ageing enables the stability and properties of products and materials to be evaluated to determine how they will react to different environmental factors.
Investment in these accelerated ageing chambers will enable the Institute to investigate the effect of temperature, humidity and other factors on the properties of materials over an extended period. The ageing chambers can demonstrate accelerated ageing of materials at a very broad range of temperatures from of -40°C to 180°C and humidity ranging from 10% to 98%.
The chambers have recently been commissioned which included, calibration, testing and training. These accelerated ageing chambers will be especially beneficial to support the materials research the Institute carries out for clients to help analyse the effects ageing in concretes, glasses, metal powders and other materials. The investment in three accelerated ageing chambers will enable testing on different materials to be carried out simultaneously.
For more information or to request support contact the Materials Processing Institute at enquiries@mpiuk.com
EconoMISER Programme
This investment is part of the EconoMISER programme that is supporting the scale-up of sustainable technologies for the foundation industries. It has been enabled by the £19.5 million funding awarded by UKRI to the Foundation Industries Sustainability Consortium (FISC).
FISC is a partnership between leading research and technology centres working in the foundation industry sectors. These centres are collaborating and combining their expertise and R&D capability to solve industry innovation challenges to achieve sustainability and net zero objectives.
The Materials Processing Institute is a member of the Foundation Industries Sustainability Consortium which is running the EconoMISER Programme.
Link to Materials Processing Institute EconoMISER project page - https://www.mpiuk.com/research-project-economiser.htm
8 June 2023