ConSolCast

project

Comprehensive modelling, monitoring and control of solidification for optimisation of continuous casting process.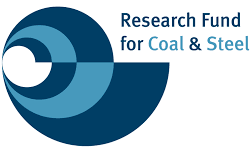 The project has received funding from the Research Fund for Coal and Steel under grant agreement No. 799295.
Project Summary
In the continuous casting process, there are several performance indicators which are of utmost importance, namely, safety, costs, productivity, yield, product quality and delivery on time. There is one event which can impact on all these performance indicators, that is, the strand breakout, which is defined as the rupture of the solidifying shell, resulting in the termination of casting on the affected strand and in some instances of the casting machine.
For all caster operators, the challenge is to cast both established and new steel grades at ever increasing casting speeds, whilst maximising prime cast product and ensuring the security of the casting machine, that is, no strand breakouts. To this end it is important to understand, monitor and control solidification from the casting mould to the crater end, to ensure the production of high-quality cast product, e.g., in terms of minimisation of surface defects.
The reasons for caster breakout are many, thus making it more challenging to determine in all instances the root cause and thus to put measures in place to prevent a re-occurrence. The aim is to minimise significantly the likelihood of a breakout, as well as, surface defects, by determining the optimum casting conditions for the particular steel grade, to have appropriate on-line monitoring of strand solidification and real- time alarms to alert the caster operators to non-ideal casting conditions and thus make proactive decisions regarding the improvement of the casting conditions.
In this collaborative project involving European Research Institutes and Steel Manufacturers the project objectives are to demonstrate that, by a combination of innovative measurement techniques monitoring the temperature distribution along the mould faces and the crater end position, with comprehensive model-based monitoring and control of solidification, the secure production of prime continuously cast semi can be maximised and therefore the caster breakout avoided.
Dates - 1 July 2019 – 30 June 2022
Sponsor - EU Research Fund for Coal and Steel (RFCS)
EU Contribution - €1,257,716
Overall Budget - €2,096,193
Partners