Oxidative Ionothermal Synthesis for Hydrogen
Hydrogen from steelmaking waste as green fuel.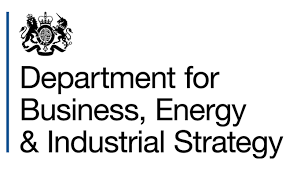 This project has received funding from BEIS as part of the Industrial Hydrogen Accelerator Programme
Project Summary
The £26 million Industrial Hydrogen Accelerator Programme provides funding from BEIS for innovation projects that can demonstrate end-to-end industrial fuel switching to hydrogen.
This project is a feasibility study for the integration of a new metal-rich waste treatment process with the use of the co-produced hydrogen in steel manufacturing at the same site.
Nanomox Oxidative Ionothermal Synthesis (OIS) uses green catalytic solvents at low temperatures to complete the direct oxidation of metals, offering enormous energy efficiency improvements over existing technologies. This patent pending process can treat metal-containing wastes, prevent landfills, reduce reliance on energy intensive pyrometallurgical processes and co-produce significant volumes of hydrogen during operation.
Wastes from the steelmaking process will be converted into saleable materials for industrial use (for example, zinc oxide) while the hydrogen produced is used as fuel on plant. Zinc/iron rich sludge is a legacy issue in the UK with approximately 6.7 million tonnes currently stockpiled, while 90,000 tonnes continue to be produced annually.
Experimental work will be performed to gather the data needed for a detailed assessment, such as measurement of hydrogen production rates and quality, and optimisation of process conditions. This will be followed by a process design to determine the OPEX/CAPEX for capture, buffer storage and use on the same site.
The work leads to a proposal for Stream 2B to begin onsite at the Materials Processing Institute steelmaking works where there is an OIS zinc removal pilot plant, and facility for oxyhydrogen combustion and testing in 400kW burners. It would then scale up to repeat waste sludge treatment and the use of hydrogen at 1.2MW scale within an operational steel plant.
Successful outcomes will reduce CO2 emissions of steel production whilst improving profitability and environmental credentials, and the combination of mandated remediation of ongoing and legacy steelmaking waste, plus direct use of the coproduced hydrogen offer a double benefit with significant cost and energy efficiencies.
Dates - 5th September 2022 – 31st March 2023
Sponsor - Department for Business, Energy and Industrial Strategy (BEIS)
Funding - £173,141
Partners